BERGAMOT Pure Essential Oil
100% Natural, Undiluted, Therapeutic Grade, Tested in Laboratory, Perfect for Aromatherapy, Uplifting, Calming & Relaxing.
Bergamot is ideal to help with anxious and sad feelings, and provides both uplifting and calming sensations.
FRESH & SMOOTH CITRUS SCENT: An absolutely beautiful scent coming from the highest quality Bergamot that transforms your space for the best aromatherapy experience with a smooth fresh citrus smell that promotes calm and relaxation.
RELIEVE STRESS AND ANXIETY: Bergamot can help you to calm and relax on hectic days, free the mind from anxious thoughts. Diffuse together with Lavender to relax and soothe a stressed mind.
MAKE SKIN COMPLEXION GLOWING & HEALTHIER: Several compounds in Bergamot oil have antibacterial and anti-inflammatory properties. This makes Bergamot oil an effective spot treatment for acne in people who do not have sensitive skin (always mix with a carrier oil before to apply on the skin)!
CLEANSE THE AIR & SURFACES: The refreshing and anti-bacterial properties of Bergamot make it a great oil to freshen up the air and help protecting your home against bacteria. In addition to diffusing at home, you can also add few drops of Bergamot oil to your household cleaning products for a nicer smell and an increased cleansing power.
PERFECT FOR AROMATHERAPY DIFFUSER: Simply add 8 to 10 drops to your essential oil diffuser for a wonderful aromatherapy experience.
PERFECT FOR AROMATHERAPY MASSAGE: Before applying on your skin, dilute with our Fractionated Coconut Oil (Best for BODY) or Jojoba Oil (Best for FACE). Refer to our Dilution Guide at the bottom of this page or in our Blog Page.
GC/MS TESTED: Every batch of our Bergamot essential oil is tested using a type of testing called "GC/MS". This ensures the authenticity and purity of the essential oil. Our Bergamot oil is 100% pure, undiluted, all-natural, and therapeutic grade. Every drop of this Bergamot essential oil has been cold pressed right from the source without any additives or harmful chemicals.
BOTANICAL NAME: Citrus aurantium var. bergamia
Aromatic Sent: Citrusy, Fresh, Bright, Slightly sweet I Note: Top I Consistency: Thin I Plant Part: Fresh fruit peel I Oil Extraction: Cold pressed I Country of Origin: Italy
INGREDIENTS: 100% pure essential oil of Bergamot (Citrus aurantium var. bergamia).
SIZE: 10ML
DILUTION GUIDE: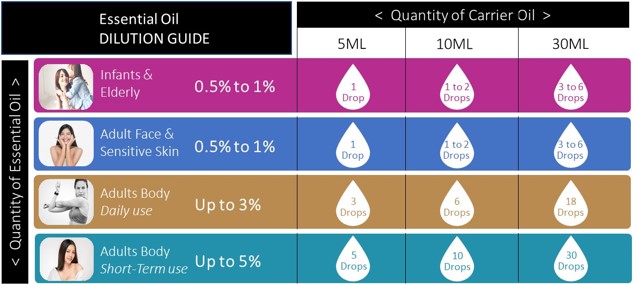 ---
OUR COMMITTMENT TO ETHICS AND QUALITY
Secret Flora is committed to ensure that you and your family enjoy fully the quality, purity and consistency of our essential oils. This is why Secret Flora selects only suppliers holding the highest international certifications of quality.
---