GERANIUM Pure Essential Oil
100% Natural, Undiluted, Therapeutic Grade, Tested in Laboratory, Perfect for Aromatherapy, Relaxation, Calm & Balance.
Geranium is calming for the nerves which makes it helpful in easing the tension associated with the stress of daily life. It is also known to promote healthy skin and hair.
SWEET FLORAL SCENT: An absolutely beautiful scent coming from the highest quality Geranium that transforms your space for the best aromatherapy experience. Its sweet floral aroma makes it an excellent choice for helping to reduce mental stress and chasing negative thoughts away.
REDUCE MENTAL STRESS: You can diffuse Geranium in your home or office to ease the feelings of anxiety, and to promote more positive and relaxed thoughts.
IMPROVE THE SKIN APPEARANCE: You can use the Geranium oil in a daily skin care routine to help improve all skin types and achieve a more youthful and clear complexion.
PERFECT FOR AROMATHERAPY DIFFUSER: Simply add 6 to 8 drops to your essential oil diffuser for a wonderful aromatherapy experience.
PERFECT FOR AROMATHERAPY MASSAGE: Before applying to your skin, dilute with our Fractionated Coconut Oil (Best for BODY) or Jojoba Oil (Best for FACE). Refer to our Dilution Guide at the bottom of this page or in our Blog Page.
GC/MS TESTED: Every batch of our Geranium essential oil is tested using a type of testing called "GC/MS". This ensures the authenticity and purity of the essential oil. Our Geranium oil is 100% pure, undiluted, all-natural, and therapeutic grade. Every drop of this Geranium essential oil has been steam-distilled right from the source without any additives or harmful chemicals.
BOTANICAL NAME: Pelargonium graveolens
Aromatic Sent: Floral, Sweet I Note: Middle I Consistency: Thin I Plant Part: Leaves I Oil Extraction: Steam distilled I Country of Origin: Egypt
INGREDIENTS: 100% pure essential oil of Geranium (pelargonium graveolens).
SIZE: 10ML
DILUTION GUIDE: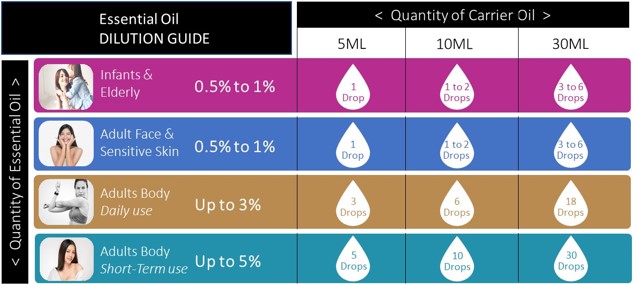 ---
OUR COMMITTMENT TO ETHICS AND QUALITY
Secret Flora is committed to ensure that you and your family enjoy fully the quality, purity and consistency of our essential oils. This is why Secret Flora selects only suppliers holding the highest international certifications of quality.
---