SANDALWOOD Pure Essential Oil
100% Natural, Undiluted, Therapeutic Grade, Tested in Laboratory, Perfect for Aromatherapy, Relaxation & Meditation.
Sandalwood is useful to improve the immune system, to ease nervous tensions, to encourage meditation and for respiratory conditions. It promotes the wellness of the mind and spirit, helping to uplift the mood while bringing calm and relaxation.
SWEET WARM WOODY SCENT: An absolutely beautiful scent coming from the highest quality Sandalwood that transforms your space for the best aromatherapy experience with a sweet, warm woody smell that supports your emotional healing and serenity.
PERFECT FOR MEDITATION: Sandalwood is a favorite to balance emotions, ground the mind, and lessen mental tensions with its superior calming effects. Sandalwood is a great tool for meditation that supports a more focused and effective meditative session.
IMPROVE THE SKIN APPEARANCE: You can use the Sandalwood oil in a daily skin care routine to help improve all skin types and to help reducing the appearance of skin imperfections.
PERFECT FOR AROMATHERAPY DIFFUSER: Simply add 4 to 6 drops to your essential oil diffuser for a wonderful aromatherapy experience.
PERFECT FOR AROMATHERAPY MASSAGE: Before applying on your skin, dilute with our Fractionated Coconut Oil (Best for BODY) or Jojoba Oil (Best for FACE). Refer to our Dilution Guide at the bottom of this page or in our Blog Page.
GC/MS TESTED: Every batch of our Sandalwood essential oil is tested using a type of testing called "GC/MS". This ensures the authenticity and purity of the essential oil. Our Sandalwood oil is 100% pure, undiluted, all-natural, and therapeutic grade. Every drop of this Sandalwood essential oil has been steam-distilled right from the source without any additives or harmful chemicals.
BOTANICAL NAME: Santalum spicatum
Aromatic Sent: Woody, Warm, Sweet I Note: Base I Consistency: Thick I Plant Part: Wood I Oil Extraction: Steam distilled I Country of Origin: Australia
INGREDIENTS: 100% pure essential oil of Sandalwood (santalum spicatum).
SIZE: 5ML
DILUTION GUIDE: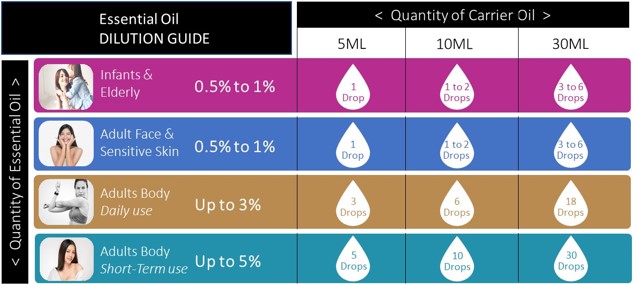 ---
OUR COMMITTMENT TO ETHICS AND QUALITY
Secret Flora is committed to ensure that you and your family enjoy fully the quality, purity and consistency of our essential oils. This is why Secret Flora selects only suppliers holding the highest international certifications of quality.
---